(5) Butia Capitata

Jelly Palm, Cocos australis, Pindo Palm

One of the most cold hardy pinnate palms. Fairly fast growing. This palm was planted in my yard from a 15 gallon in 1994 and turned completely brown after a 6 degree  freeze ( 9 degrees at airport ) on Feb. 5, 1996. By late summer 1996 it had completely recovered. 

It is borderline hardy in the New Bern area.The Butia needs to be planted in a protected area, out of the north wind.  Plant on the south side of buildings in well drained soil. Cold damage usually starts around 12 degrees but can recover from single digits and lower depending on duration..

  (3) Windmill Palm - Trachycarpus fortunei

One of the most cold hardy trunked palms.  Grows very well in zone 8 and some areas of zone 7.  The best tall trunked palm for inland areas. They do very well in light shade or full sun if provided with a rich, moist, but well drained soil. Established Windmill palms usually start showing cold damage at around 5 degrees, depending on duration. Although they grow OK for many years in the open, those in protected areas do better in very severe freezes such as the ones that occurred in the 1980's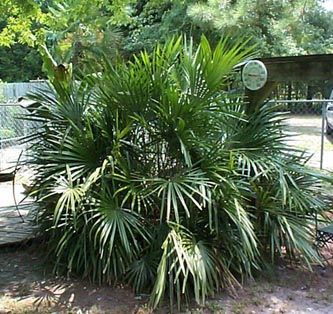 (1)   Needle Palm - Rhapidophyllum hystrix

Bush type to around 10 feet. The most cold hardy palm. Native to the Southeastern US. The one in the photo, planted from a 10 gallon in the early 80s  had no damage at  4 below zero in December, 1989.

Native to Southeastern NC. Grows to 40' or taller.  Endures more cold than the Windmill palm when young because the growing point is below ground.  After an above ground trunk forms it is slightly less hardy than Windmill Palm. Palmetto is best planted in a protected area or microclimate here in the New Bern area.

Hardy Palms in Eastern NC

This is a list of the five most commonly used palms for inland areas of zone 8 in NC. They are listed in the order of hardiness based on over 25 years of observations near New Bern, NC.

There are several other species of palms that are being observed  that, so far, appear to be hardy in this area.

Listed in order of cold hardiness in this area.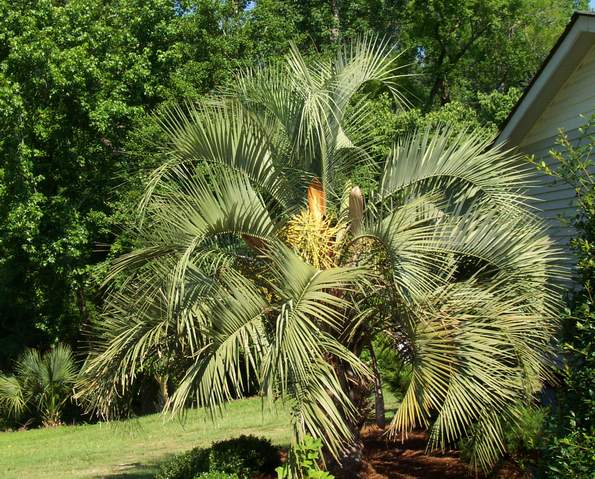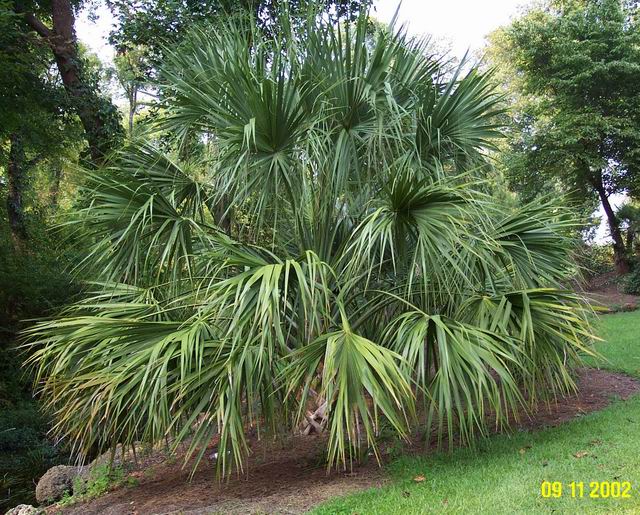 Above: Old Sabal palmetto in downtown New Bern, NC at the Bayard Wootten House.

Above: 12 foot Sabal palmetto planted from seed in 1986, starting to form a small trunk in 2002.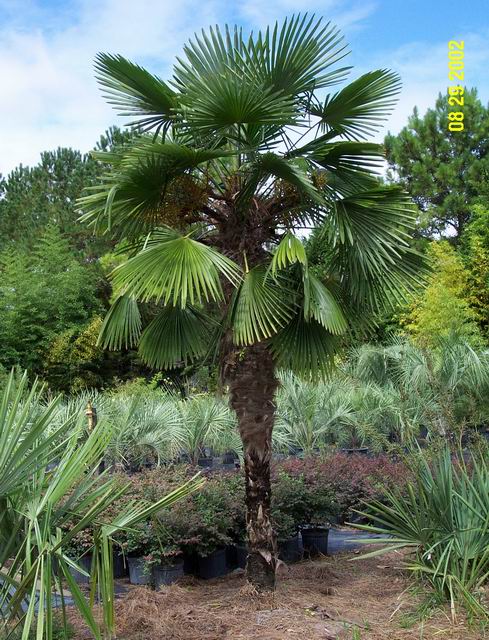 Sabal minor - Dwarf palmetto.

Native to eastern NC and as far west and inland as Oklahoma and Arkansas. Very cold hardy. Slow growing to around 8-9 feet here in eastern NC with a small trunk after many years