Below are some photos of our work.

Gary's Nursery, LLC

Growing Trees, Shrubs and Cold Hardy Palms 

Designing & Installing Landscapes

in Eastern NC

Since 1975

NC Licensed Landscape Contractor #441

NC Certified Nursery

Hunters Ridge Subdivision Entrance

All photos copyright © Gary Hollar

1999-2021

We Thank You for Visiting Our Page

Please visit our nursery.

Please call 252-637-6858 and allow us the privilege of assisting you with your Landscape Design & Installation. Free first consultation. We will work from your landscape plan or we will design for you. Since 1975

Hours: May be variable in the off season so please call 252-637-6858

Closed for lunch between12 and 1

Phone 252-637-6858

Landscape Design & Installation. 

We have a NC Licensed Landscape Contractor on staff to assure you of a well planned and installed job. We will work with your budget to get the best value possible.  Call and put our 46 years of local landscape experience to work for you. Tried and true plants and planting techniques acquired from growing our own plant material and years of experience planting in the soils of Eastern NC.

We will work from your plan or we will design one for you. Very reasonable prices and one year guarantee on trees and shrubs installed by us on sites with an irrigation system.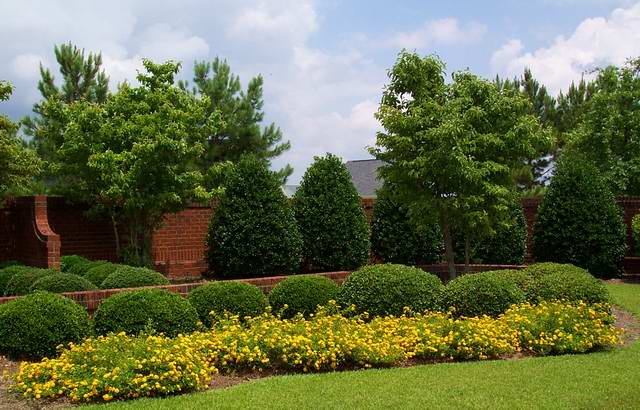 Above: A planting with very cold hardy Windmill Palm used as a small evergreen tree on the corner of the house in the Brices Creek area of Craven County, NC. The palm has yellow flowers in spring followed by blue fruit in fall. The Windmill palms are underplanted with the NC native Dwarf Palmetto Palm and Knockout roses. In the left background is the NC Native Sabal palmetto with dwarf red Crape Myrtle to the right and tree-form Tuscarora Crape Myrtle in the far background.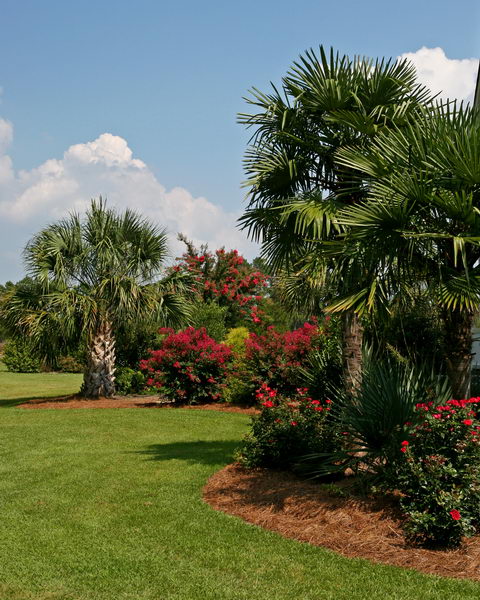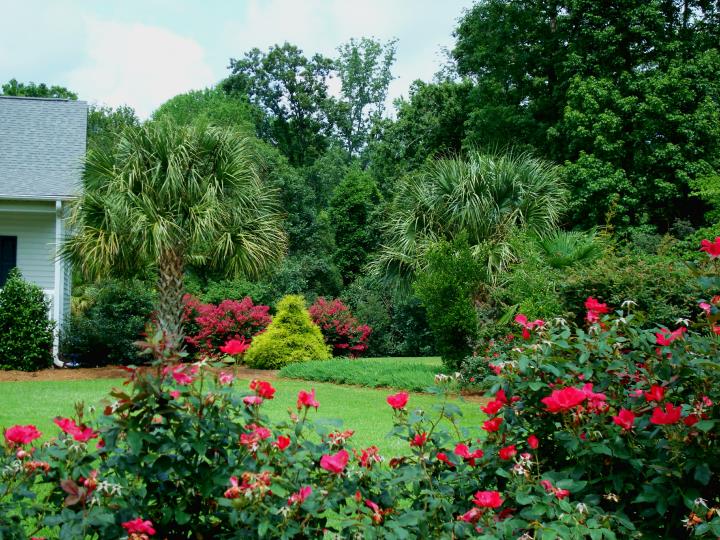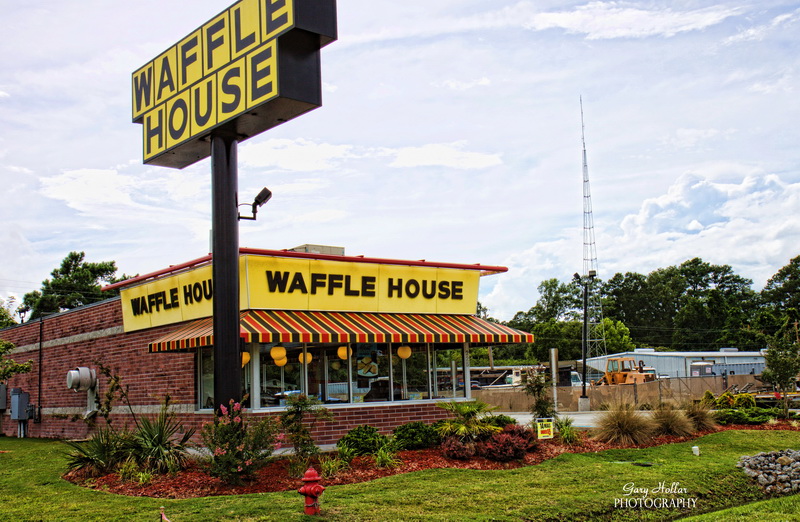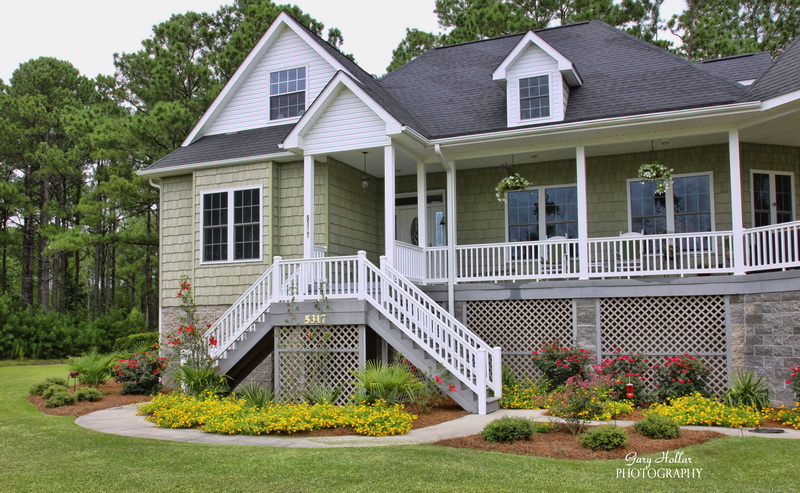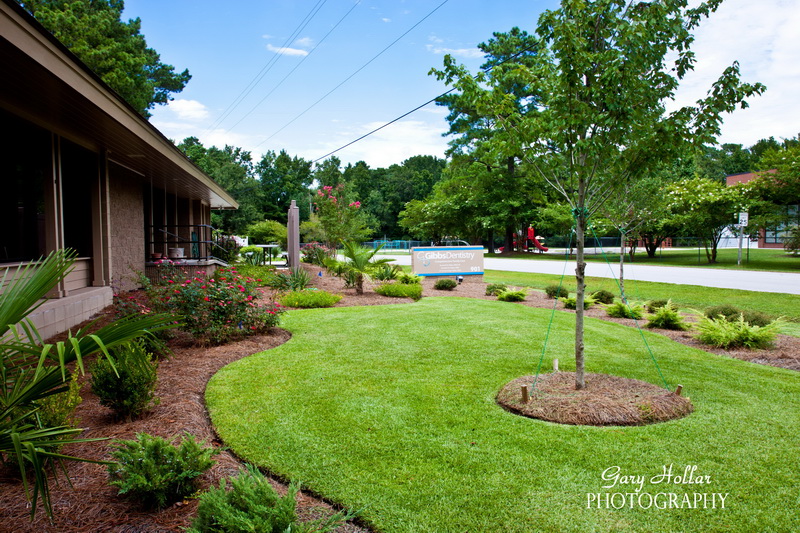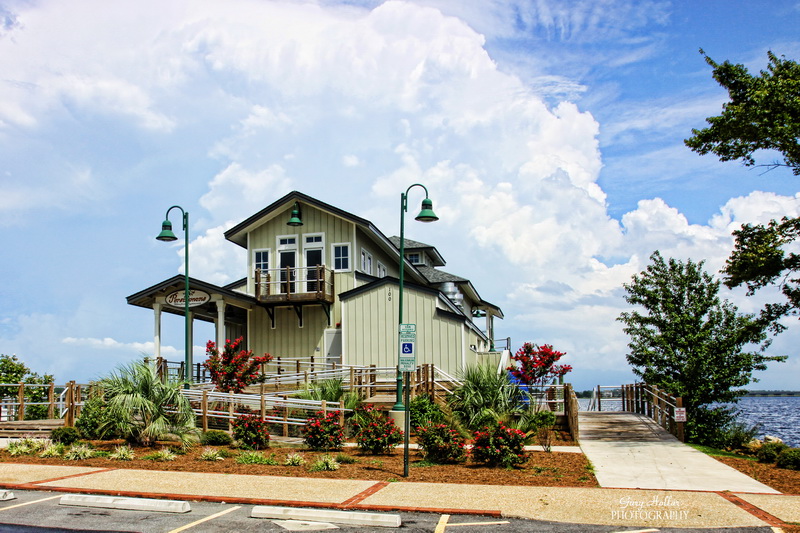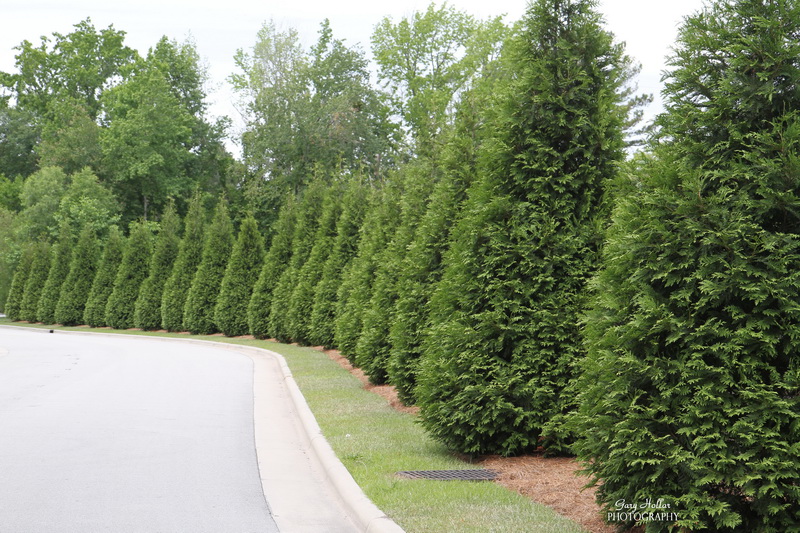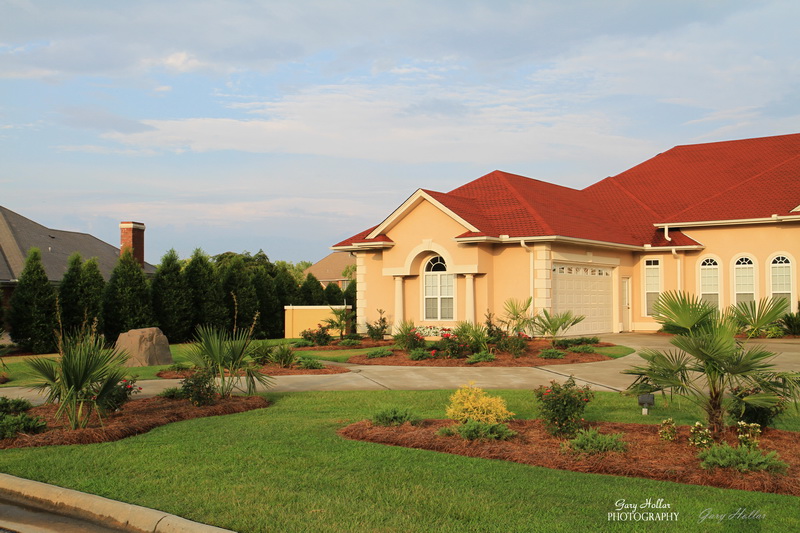 Persimmons Restaurant, New Bern, NC

Tree-form Crape Myrtles and Knockout Roses add color to the planting.

Beautiful Crape Myrtles, Daylilies and Craven County native Sabal minor palms beautify this riverfront home across from New Bern.

Hidden Harbor near Olde Town

Green Giant Arborvitae. Much better choice than Leyland Cypress for Eastern, NC. These stood up just fine during Hurricane Irene while Leyland Cypress were blown over.

Waffle House - Havelock, NC

Gibbs Dentistry New Bern, NC

Along the Neuse River and visible from the Neuse River Bridge before heading into Bridgeton.

This was featured in Carolina Gardener Magazine.

Photography by Gary Hollar. © All rights reserved.


New palm planting around pool in Onslow County.

NC container grown cold hardy palms; Butia odorata, Sabal Birmingham, Sabal Brazoriensis and Windmill Palm. Since they are container grown by Gary's Nursery from very hardy seed stock these palms will take off growing immediately and there will be no long recovery period as when B&B palms are planted.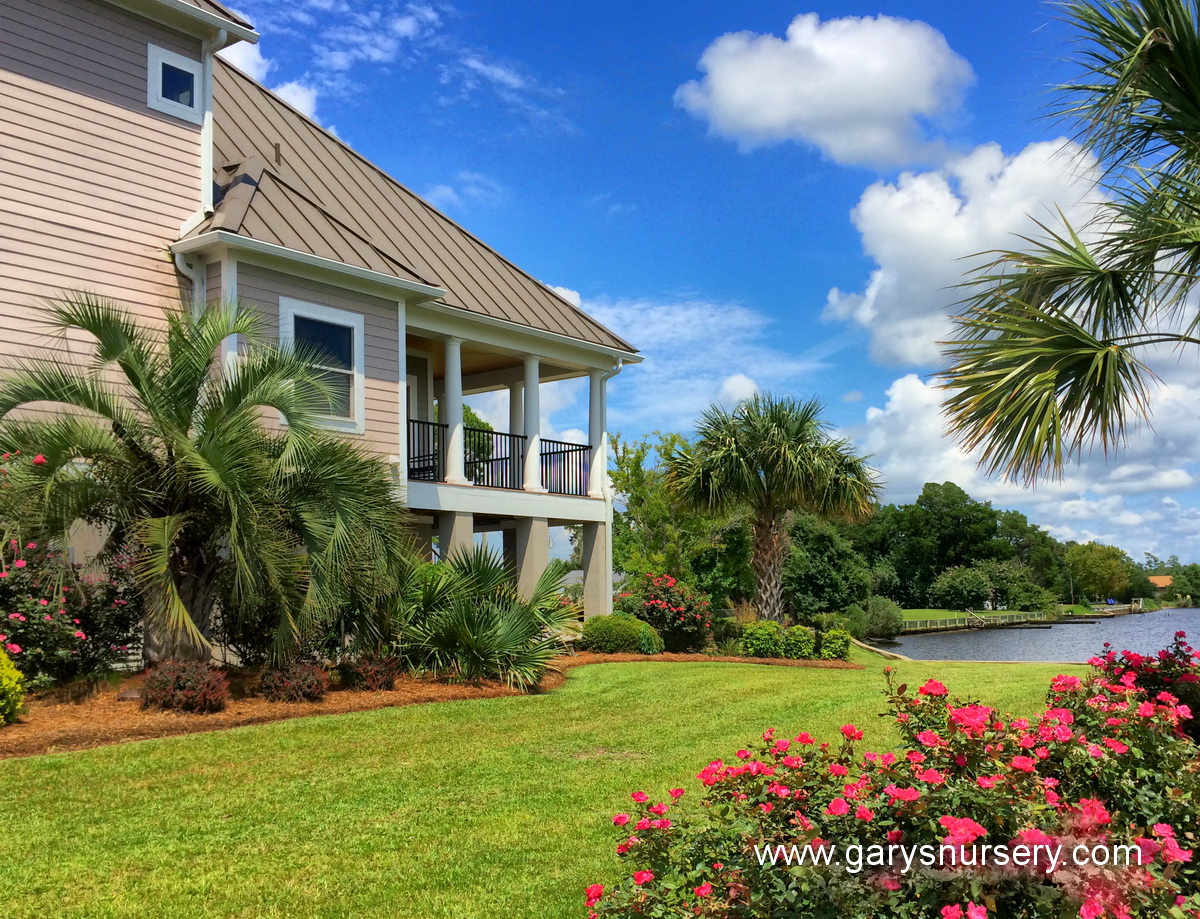 Greenbriar In New Bern

This was a complete landscape renovation over the entire yard. Most all existing plants were ripped out  and new plants added such as Knockout Roses, Gold Mound Lantana, Perennial Hibiscus, Dwarf NC native palms, ornamental grasses, flowering perennials.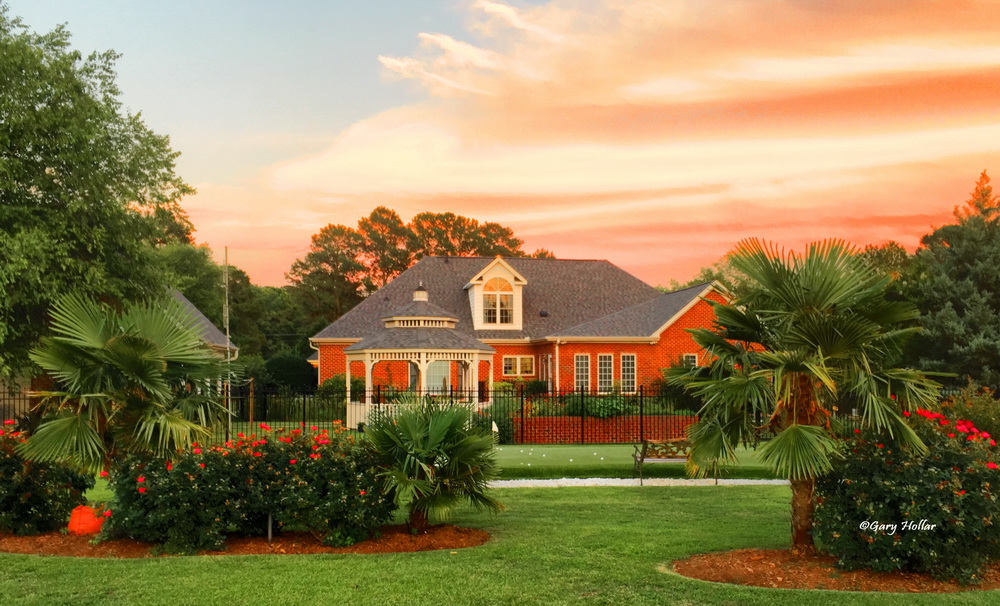 Palms planted around a backyard putting green several years ago in Pitt County, NC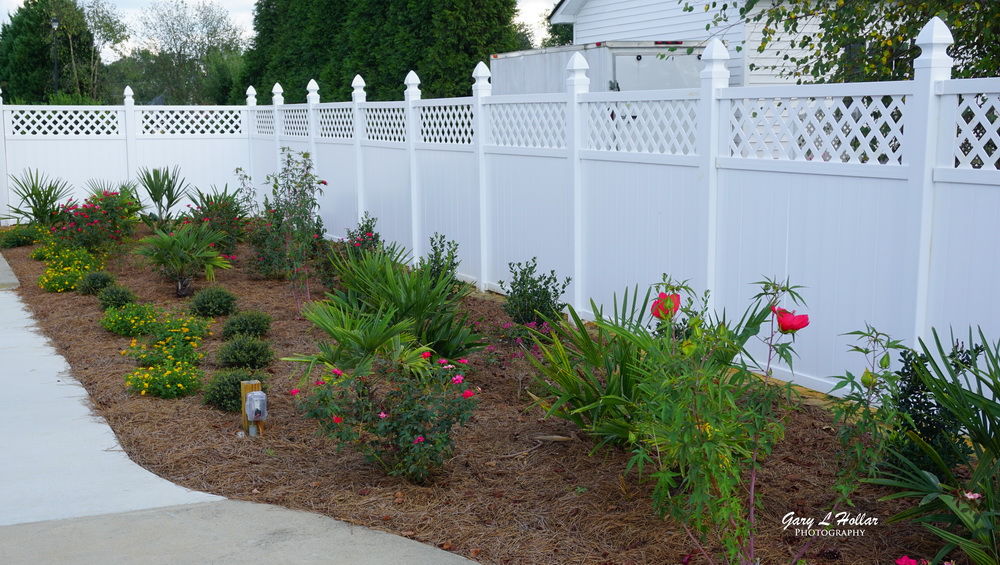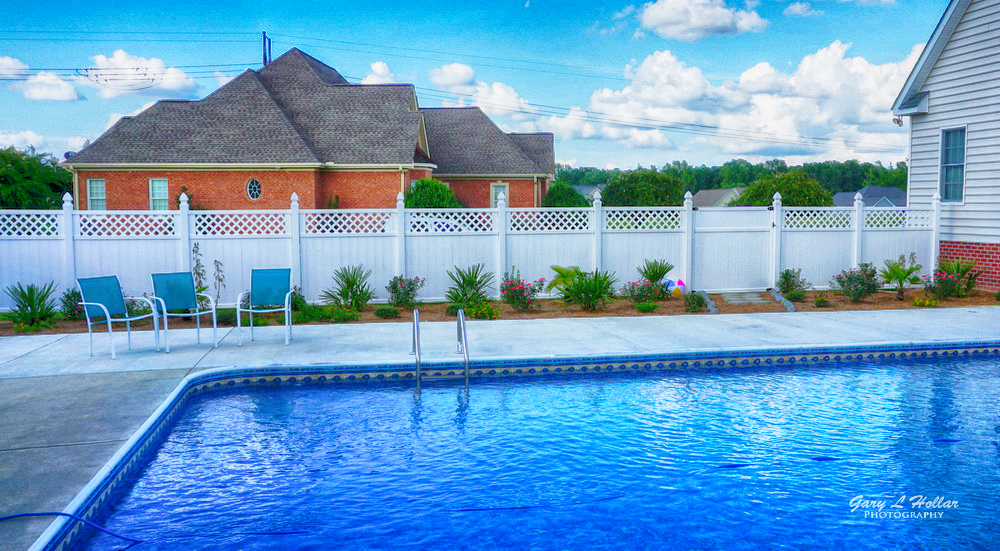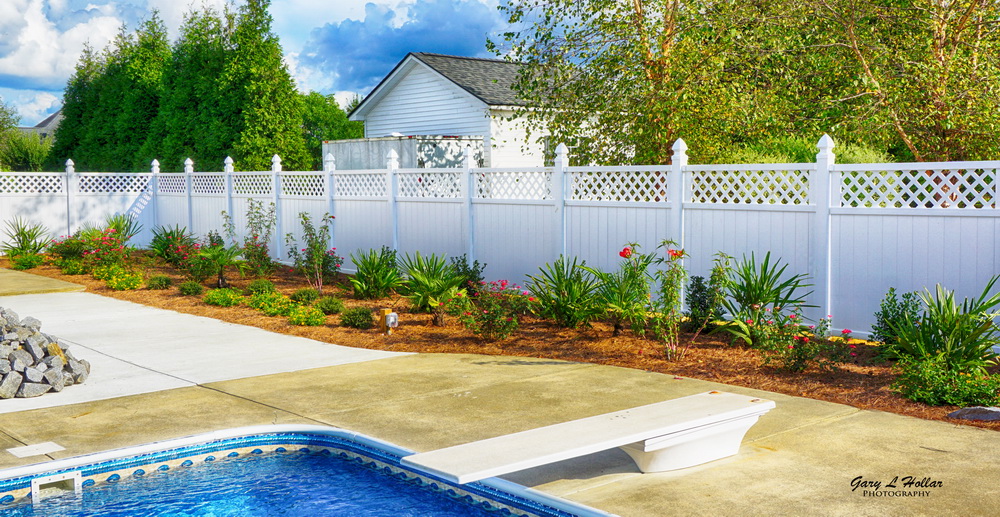 A recently installed planting around a beautiful pool in Farmville, NC. Cold hardy native and other cold hardy palms

Summer Color:: Crape Myrtle, perennial Black Eyed Susan and Red Star perennial hibiscus. .

A very low maintenance landscape installation 6 years or so after planting in Olde Town. Dwarf Yaupon, Dwarf Palmetto and Needle Point Holly.  Light trimming once a year has kept the plants in great condition. The NC native Dwarf Palmetto has white flowers and then black berries enjoyed by the birds in the winter.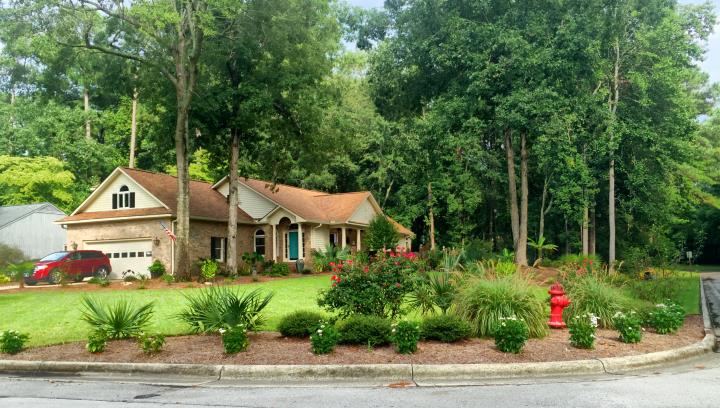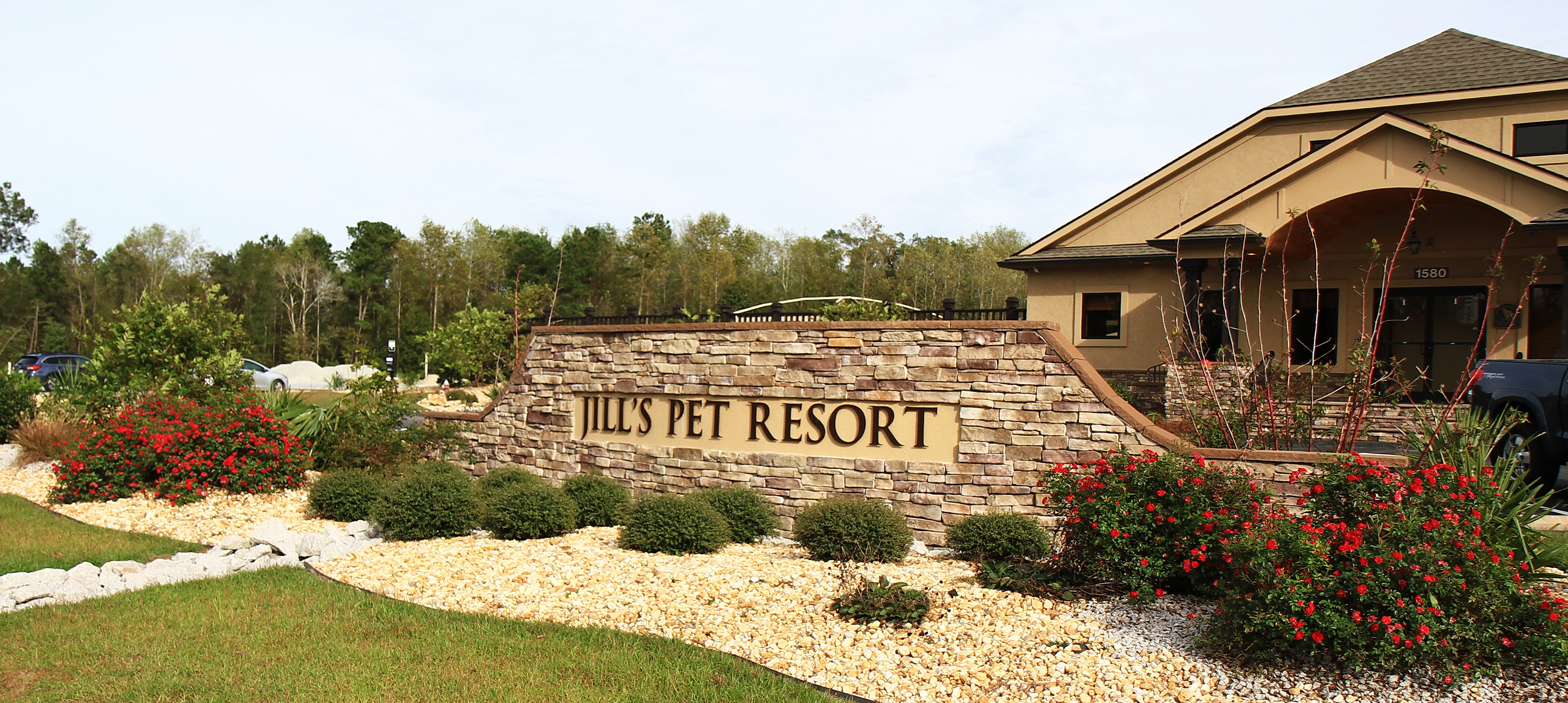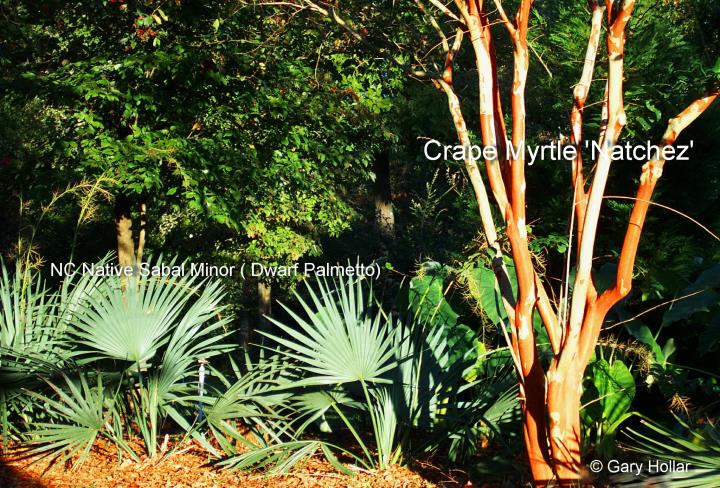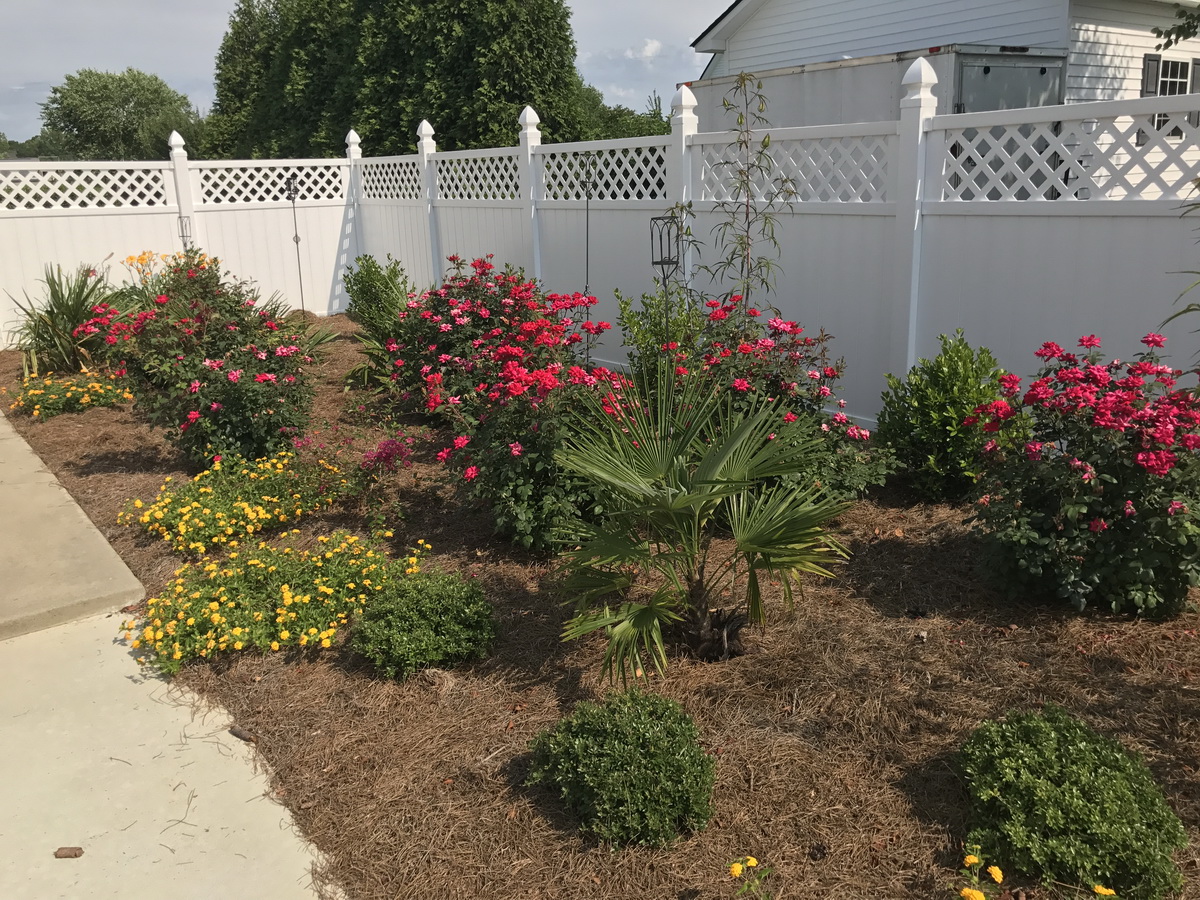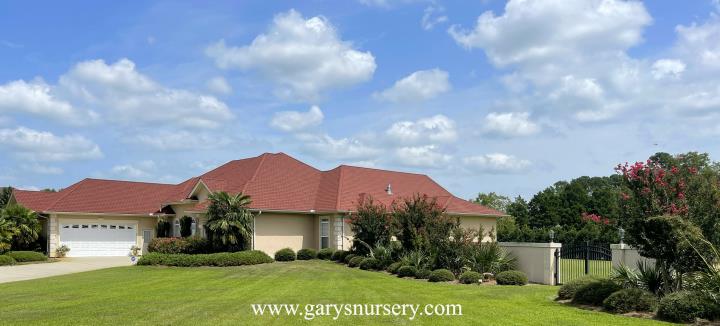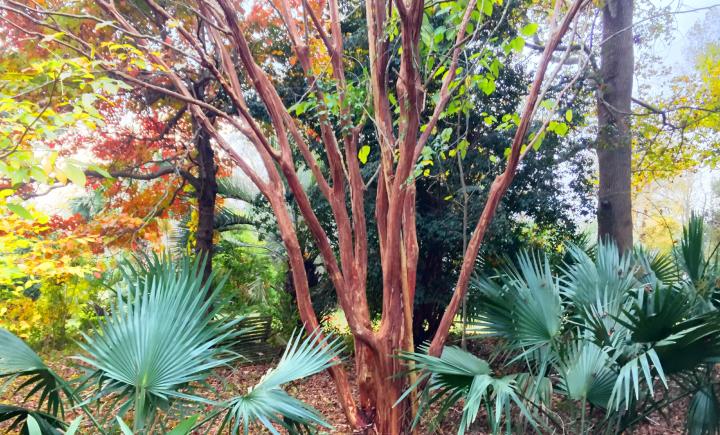 A Fall scene where Eastern NC Sabal minor palms were used with Natchez Crape Myrtle. The cinnamon colored bark of the Crape Myrtle and the blue/green color of the Sabal minor add colorful interest to the landscape.