Native Sabal Minor in North Carolina

Gary Hollar

Gary's Nursery

New Bern, NC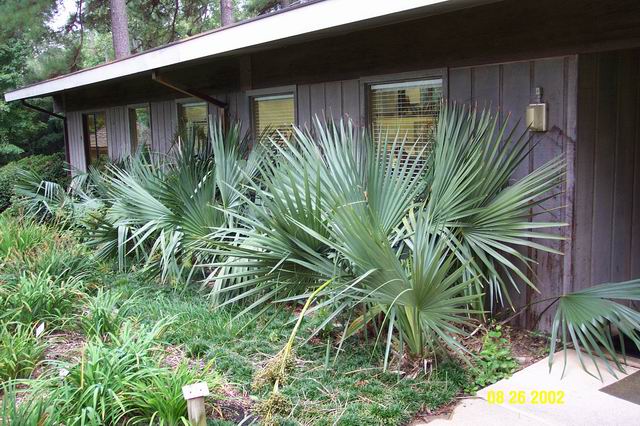 The most widely distributed native palm in the continental United States. It is native to NC, SC, GA, FL, AL, MS, LA, TX, OK and  AR. This small palm was the first palm in the United States to be botanically named and described. The common name is Dwarf palmetto.

Sabal minor is native to most of the NC counties adjacent to the coast and several counties inland from the central coastal plain and south.. It is a very cold hardy bush type palm growing beside creeks and rivers here in eastern NC . The most common size found in habitat here is around four to six feet with no visible trunk, however we have found specimens up to ten feet or so in height with small one to two foot trunks in Hyde, Brunswick, Beaufort, Pamlico, Carteret and Currituck Counties.

In recent years Sabal Minor has emerged as a very desirable landscape specimen. They are planted as singles or in groups in wet, shady areas where many other plants would not thrive.  Minors can also be planted in full sun as long as plenty of moisture is provided and they make a wonderful under-story plant.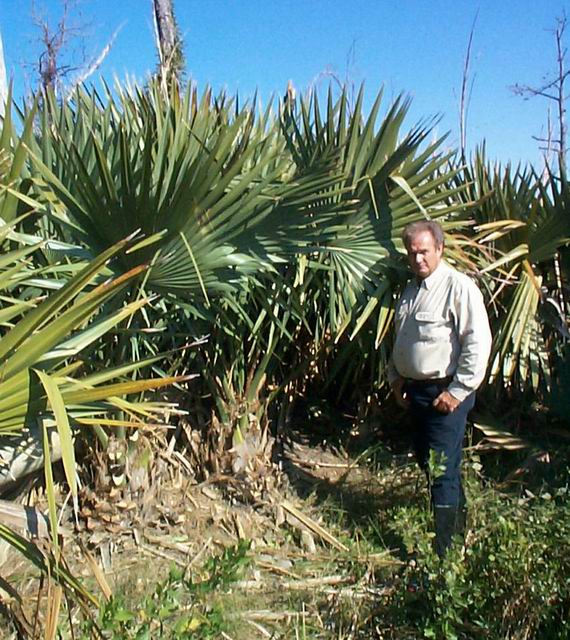 Trunking Sabal minor over eight feet tall in Western Hyde County, NC beside the Pungo River.

Photo by Carl Cornelius

Sabal minor used as a foundation plant in Jaycee Park in Raleigh, NC. It is with great sadness to report that these specimens have since been removed.

Many Sabal minor in NC have palmate leaves. Here is a leaf from a specimen near Washington in Beaufort County NC, with costapalmate leaves.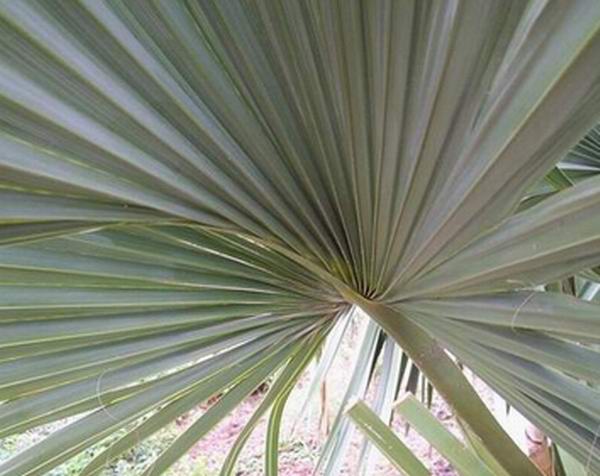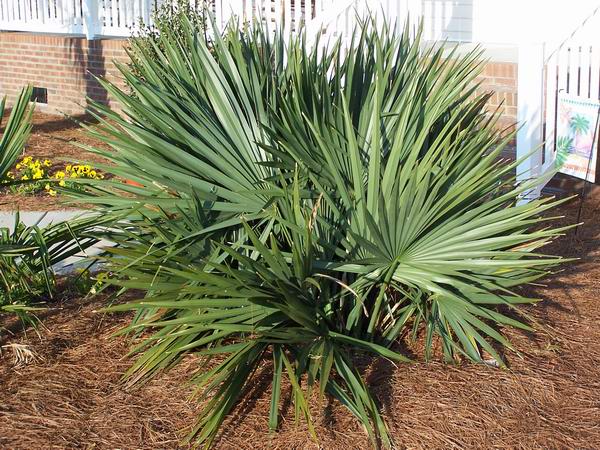 Sabal minor used as foundation shrub. This palm was rescued from in front of a building that was going to be demolished in downtown New Bern and I rescued it and planted it at my home. It had been struggling at the original location for possibly 40 years or more. Now under good care it is thriving.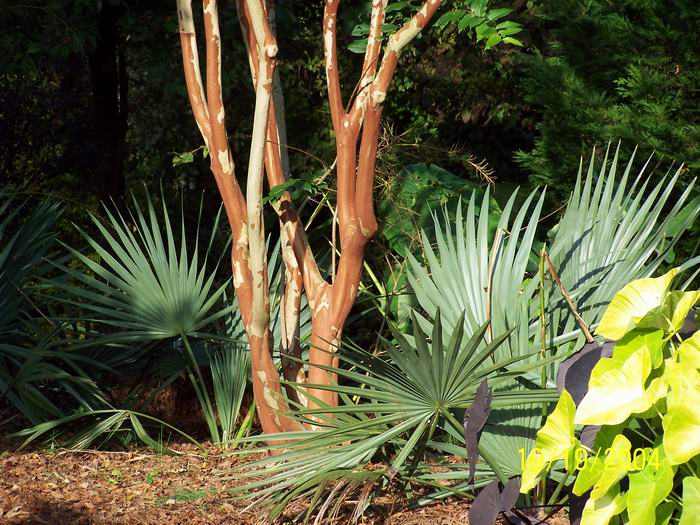 Sabal minor used as an under-story plant with Crape Myrtle. Nice contrasting color, drought tolerant with the ability to take sun or shade. These were grown from seed collected in Brantley Swamp near Aurora, NC.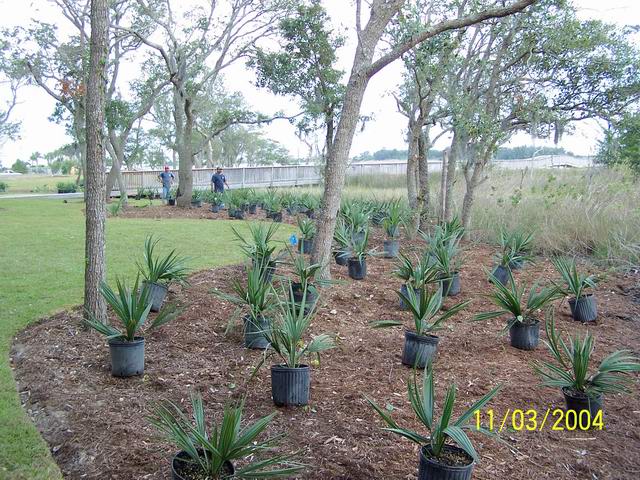 Gary's Nursery supplied these Sabal minor to Lloyd's Nursery for use as a transition plant between a marsh and a lawn area..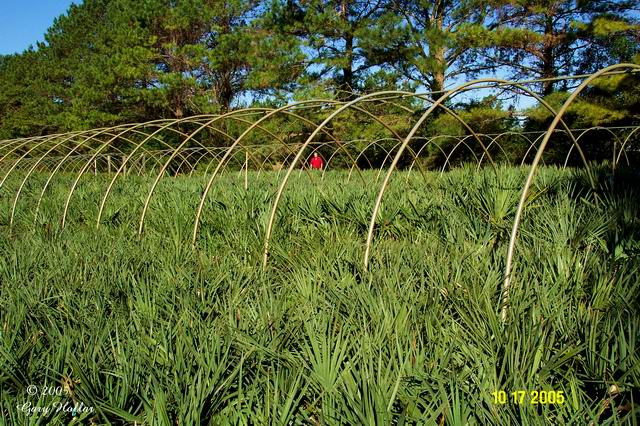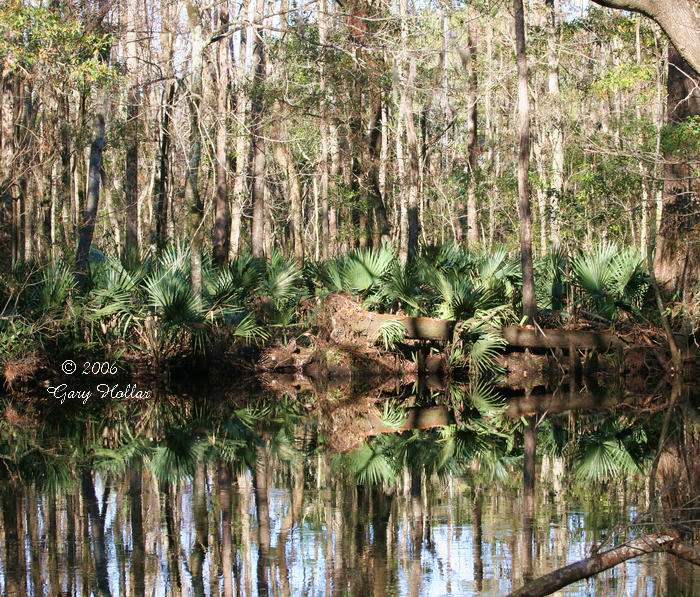 Sabal minor in habitat along Slocum Creek in Craven County, NC

Sabal minor found by Carl Cornelius along a tributary of the Pungo River in Hyde County. 

Photo by Carl Cornelius

Above: Nursery grown Sabal minor around 10 years from seed.

Sabal minor in production, Gary's Nursery in Craven County, near New Bern, NC.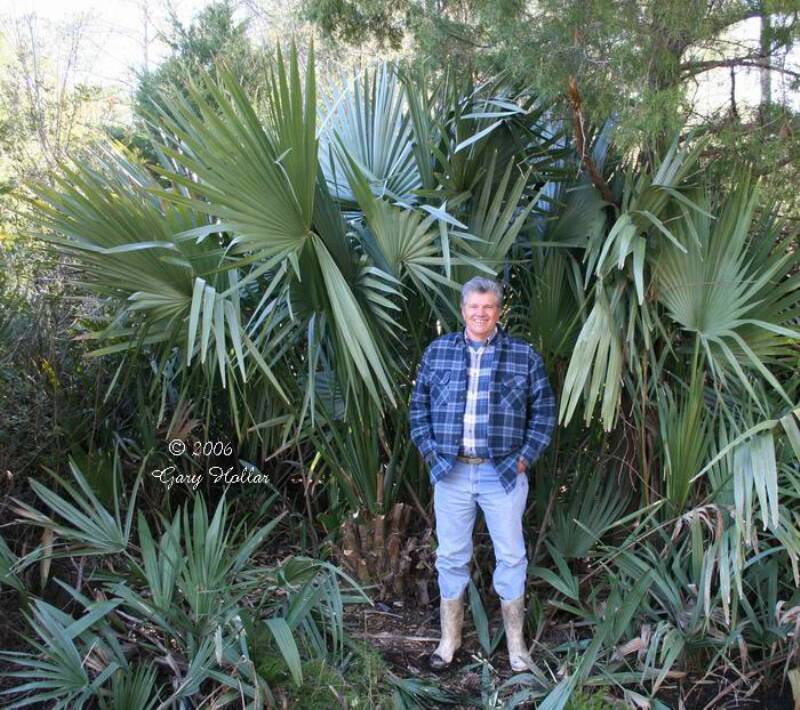 Carl Cornelius with Sabal minor around ten feet tall that he found in Pamlico County, NC.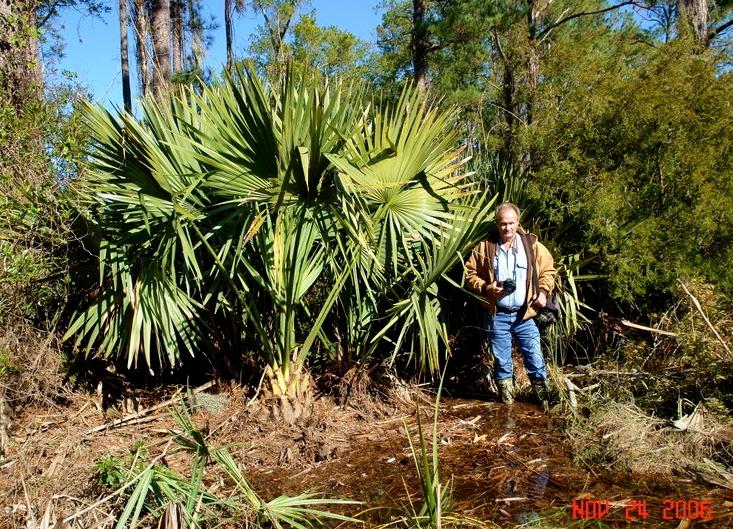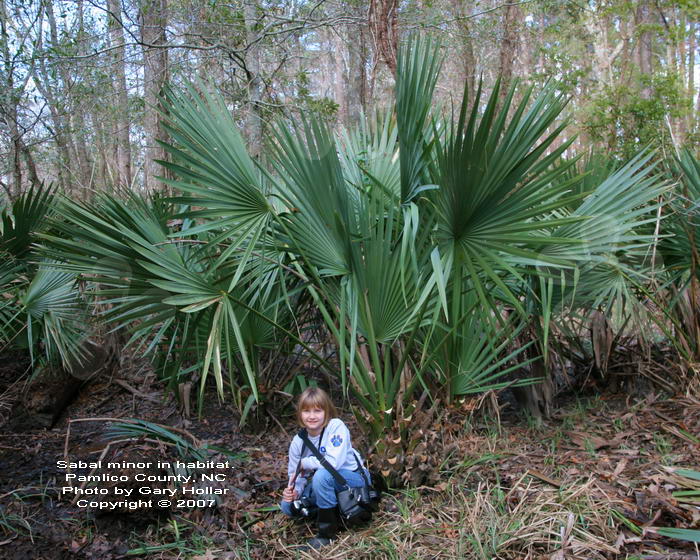 Large 8-9 ft Sabal minors growing in a hardwood swamp in Pamlico County near Oriental, NC.  I took my friend and fellow NC nurseryman, Tony Avent, to this site to take photos and collect seeds and he now markets this as

Sabal minor "Oriental Giant". This was his first trip to see native NC Sabal minor in habitat.

Content, including photos, copyright © Gary Hollar 1999-2012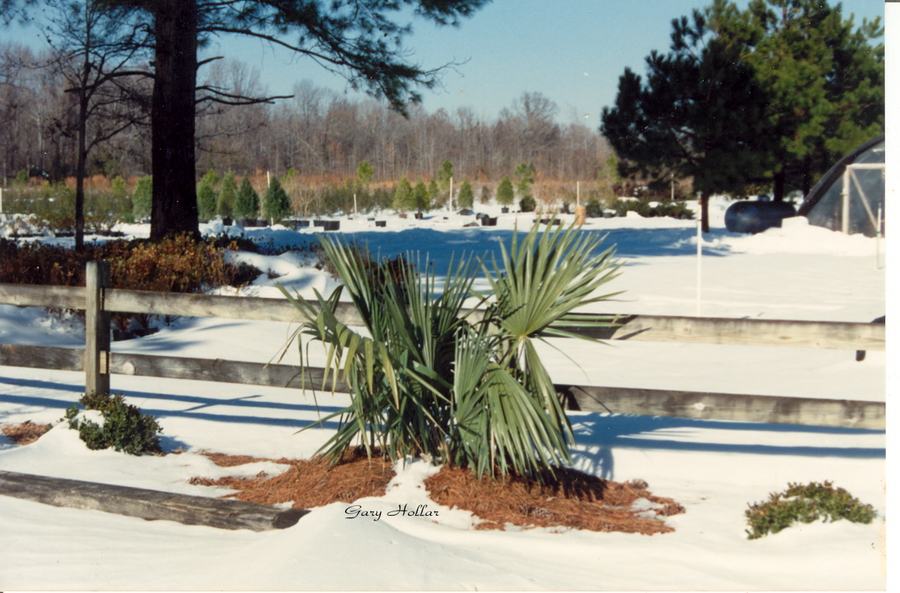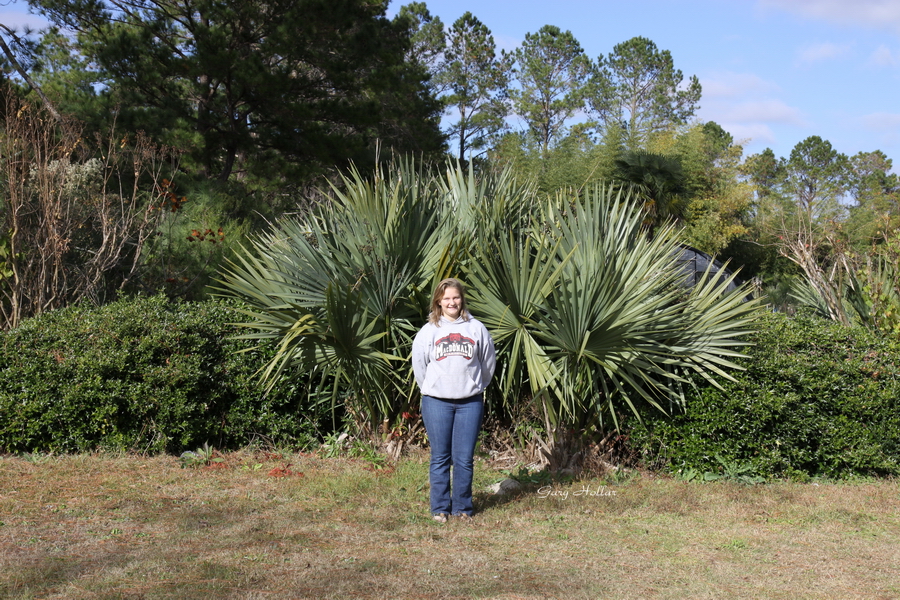 Above: Sabal Minor planted at Gary's Nursery in 1986 and is shown here after 4 below zero in1989. No major damage.

Below: The same Sabal minor above is shown 23 years later, in 2012, in the middle of larger offspring from naturalizing. These have had no supplimentary water over the years.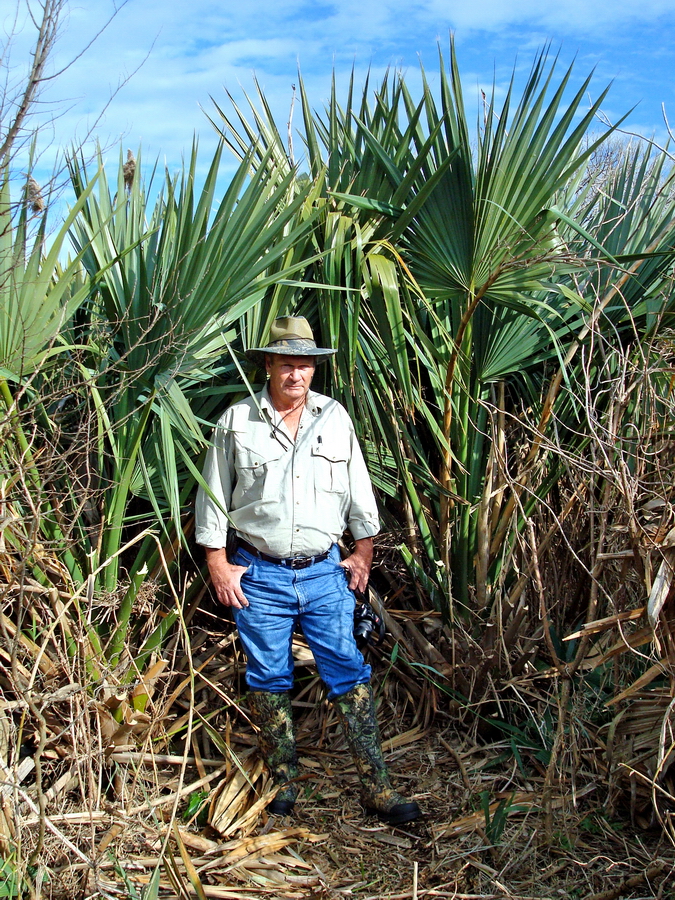 Native Sabal minor on Monkey Island, NC in the Currituck Sound. After this trip in 2007 I sent two 9' leaf specimens to the herbarium in Raleigh, NC to document the most northern known native location of Sabal minor.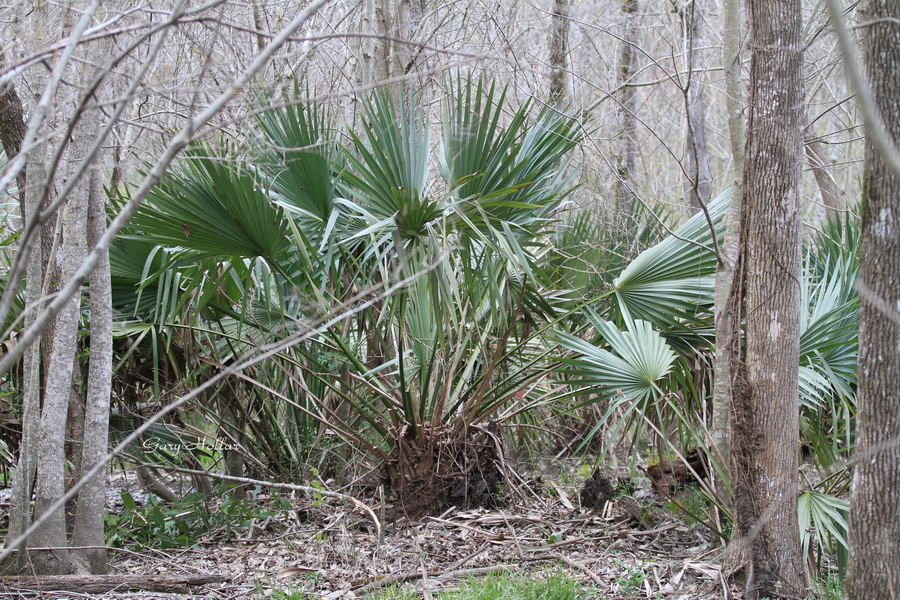 Brunswick County, NC

I found this10 foot Sabal minor on private land in Brunswick County in March 2013. While I was there the land owner comes up. What I thought was going to be a touchy situation turned into making two new friends that day. As I shared information on the NC palm, that I had been documenting all over eastern NC for many years, he calls his wife to come and listen also. We stood and talked for a long time about this little NC native and they showed interest in using some in their landscape at their home. They were such kind and friendly people that I wanted to repay that kindness with some Sabal minor to use around their home.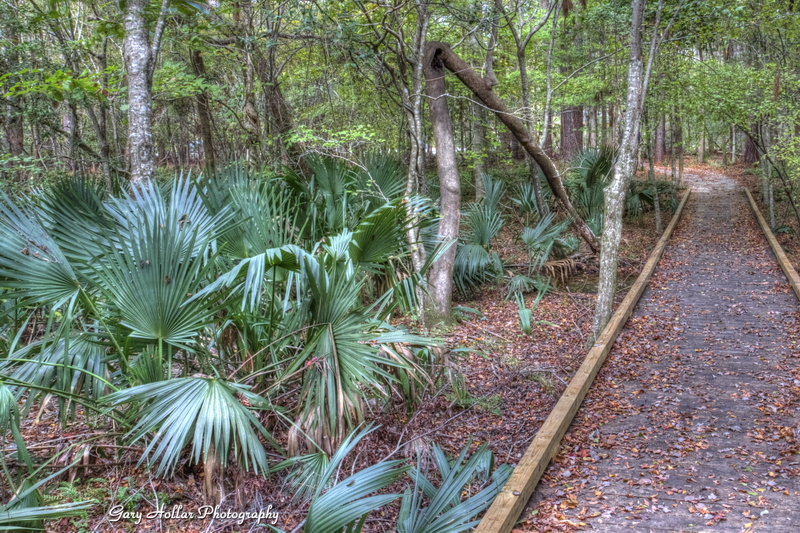 A native population of Sabal minor in Latham-Whitehurst Park in Craven County.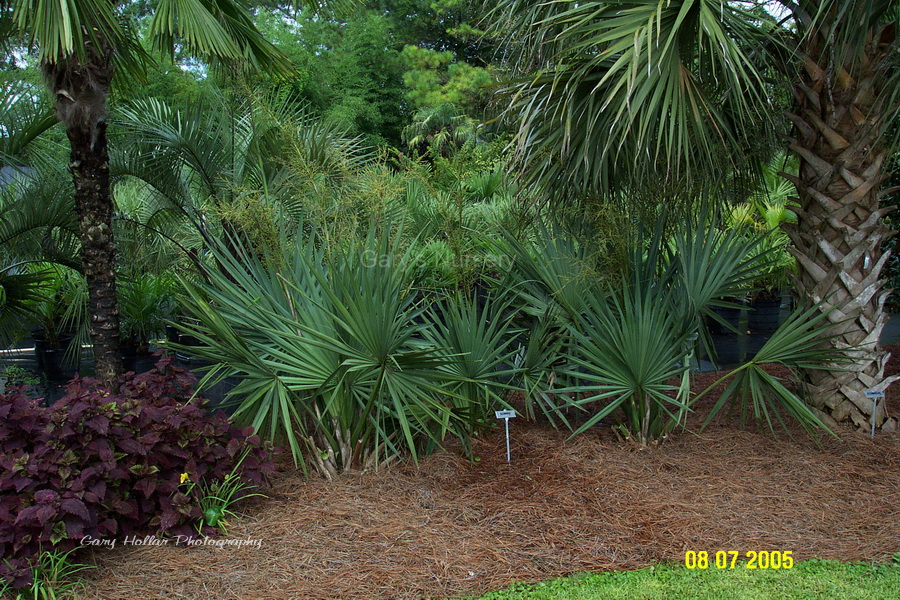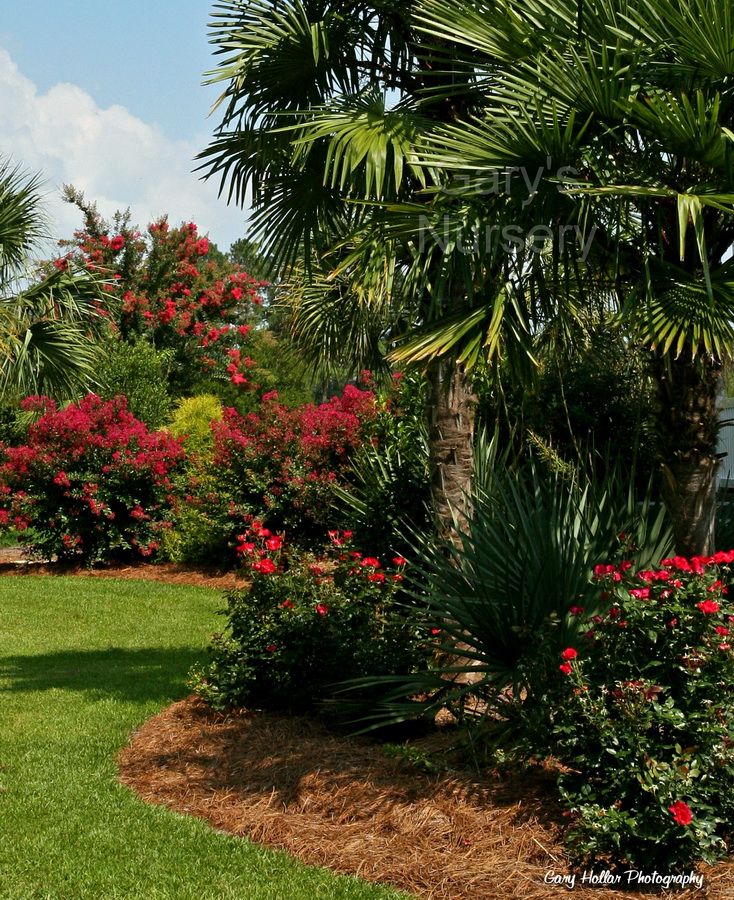 Above: Sabal minor used as a shrub under taller palms at my home in Craven County, NC